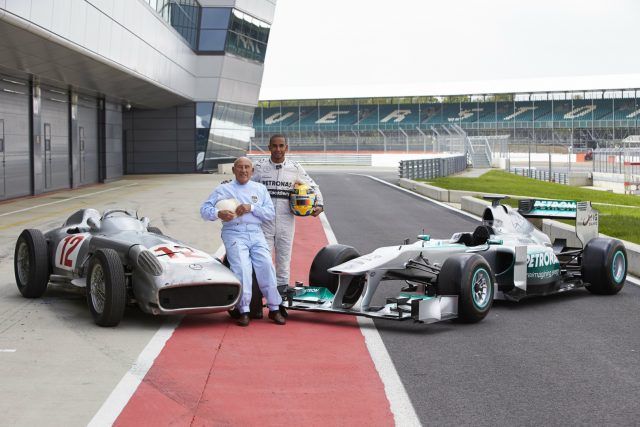 Det ranker inn med kondolanser og hyllester etter at det ble kjent at Sir Stirling Moss er død – 90 år gammel.
Til tross for at var en av de klart beste – ble aldri Moss mer enn nummer to verdensmesterskapet – det ble han til gjengjeld fire år på rad – fra 1955 til 1958, Deretter fulgte han opp med tre tredjeplasser.
En stygg ulykke på Goodwood påsken 1962 satte en stopper for F1-karrieren hans.
Han ble også nummer to i av 24-timersløpene på Le Mans, men vant to ganger 12-timersløpet på Sebring og en gang på Reims. Han vant også 1955-utgaven av Mille Miglia med en tid som fortsatt står igjen som tidenes raskeste.
En rekke motorsportpersonligheter og team hyller Sir Moss på Twitter – her er noen av dem:
Today we say goodbye to Sir Stirling Moss, the racing legend. I certainly will miss our conversations. I am truly grateful to have had these special moments with him. Sending my prayers and thoughts to his family. May he rest in peace🙏🏾 pic.twitter.com/SDUAqxENHk

— Lewis Hamilton (@LewisHamilton) April 12, 2020
It is with great sadness that we have to report the death of one of Great Britain's finest racing drivers, Sir Stirling Moss OBE, who passed away in the early hours of this morning at the age of 90. https://t.co/ZpzyGiPAXw pic.twitter.com/HGRbZ3lnPV

— Silverstone (@SilverstoneUK) April 12, 2020
A moment we'll cherish forever 🙏 Sir Stirling Moss and @LewisHamilton at Monza in 2015, taking to the iconic banking in two Silver Arrows

🎥 x @BBCSport pic.twitter.com/1Hj7WGkvSH

— Mercedes-AMG F1 (@MercedesAMGF1) April 12, 2020
Very sad day. Stirling Moss left us after a long fight. He was a true legend in motor sport and he will remain so forever. My thoughts go out to his wife Suzie, his family, his friends #Stirling #F1 pic.twitter.com/6nRz0irtrl

— Jean Todt (@JeanTodt) April 12, 2020
RIP Sir Stirling Moss, 90.
Fantastic driver – a 'racer's racer' – & a dashing, debonair character.
His wife Lady Moss told the Daily Mail: 'He died as he lived, looking wonderful.' pic.twitter.com/YwOieyNtLn

— Piers Morgan (@piersmorgan) April 12, 2020
RIP Sir Stirling Moss. A mighty racer and gentleman. He had a press on style on the track and in life. Remarkable man. Survived the most dangerous era of motorsport and died today aged 90. He had such great stories to tell, and it was a privilege to know him. 😢

— Martin Brundle (@MBrundleF1) April 12, 2020
Just heard the very sad news my dear friend Stirling Moss has died. He was my hero and such a kind man beloved by everyone. He was a true giant in our sport and will be missed forever. My deepest sympathy to his devoted wife Suzie. Rest in peace, Racer.

— Mario Andretti (@MarioAndretti) April 12, 2020
Very sorry to hear of Sir Stirling Moss' passing. I have a few nice memories with him over the past few years. I took this photo at @goodwoodrevival where he was sitting on his own, just enjoying the racing. Later his wife Susie & he were in great form at the ball! #RIPStirling pic.twitter.com/XKYbuMdRWr

— Karun Chandhok (@karunchandhok) April 12, 2020
Please send us all your best pictures and memories of Sir Stirling Moss, and we'll collate them on GRR pic.twitter.com/OicIGSUpwE

— Goodwood Road&Racing (@GoodwoodRRC) April 12, 2020
I am very saddened to hear the passing of Sir Stirling Moss. He privately supported me over many years and was an amazing driver in his time, he will be greatly missed. My thoughts are with his family and all that had the pleasure of knowing him #RIP 🙏🏾 pic.twitter.com/xYEnE9Ak0f

— Frank Bruno MBE 🇬🇧 (@frankbrunoboxer) April 12, 2020
More sad news, RIP Stirling Moss. pic.twitter.com/LjKKyWlDdB

— Craig Scarborough (@ScarbsTech) April 12, 2020
Stirling Moss was a dude, this we know. In many ways he was a cat with nine lives, but hearing of his death this morning is still very sad. #stirlingmoss pic.twitter.com/0A00O2FN0l

— Jonny Smith (@Carpervert) April 12, 2020
It was always an honour to meet this gentleman at home and events…a true racer…old school and a gent…RIP one of the greatest racers, Sir Stirling Moss pic.twitter.com/zpJ3RJW8VN

— James Martin (@jamesmartinchef) April 12, 2020
Scuderia Ferrari remembers Sir Stirling Mosshttps://t.co/SYMDds0TiT

— Scuderia Ferrari (@ScuderiaFerrari) April 12, 2020
Ola Källenius: "The Mercedes-Benz family mourns the loss of Sir Stirling Moss. We will miss him as man, but he remains unforgettable as one of the greatest drivers of all time." (1/2) pic.twitter.com/UkXV2lUE8r

— Mercedes-AMG F1 (@MercedesAMGF1) April 12, 2020
Wonderful Sir Stirling Moss. RIP pic.twitter.com/c3gio1L8gC

— Mario Andretti (@MarioAndretti) April 12, 2020
Truly a racing legend 👏 Rest in Peace, Sir Stirling Moss! https://t.co/Q02ZQXVtlN

— Nico Rosberg (@nico_rosberg) April 12, 2020
We are deeply saddened to hear about the passing of BRDC Member, motorsport legend & friend to many Sir Stirling Moss OBE. Our thoughts are with Lady Moss & their family at this difficult time. A proud BRDC Member from the day he received his badge & we will all miss him dearly. pic.twitter.com/1qca9mvuRD

— BRDC (@BRDCSilverstone) April 12, 2020
RIP Sir Stirling Moss.

Only had the pleasure of meeting him briefly a couple of times but even that was enough to understand why he was so highly respected.

My thoughts are with his family.

— George Russell (@GeorgeRussell63) April 12, 2020
Aston Martin is sad to record the passing of one of Britain's greatest racing drivers, Sir Stirling Moss.

A legendary sportsman and gentleman, our thoughts go to Lady Moss, his family and his many fans worldwide. pic.twitter.com/HnypW4E7Wc

— Aston Martin Racing (@AMR_Official) April 12, 2020
A pure racer and an inspiration to the entire motorsport community. Rest in peace Sir Stirling Moss. Your legacy will live on. ❤️ pic.twitter.com/GAhMV9cjiW

— Aston Martin Red Bull Racing (@redbullracing) April 12, 2020
RIP, Sir Stirling Moss. ❤️

A true sporting legend.

Our condolences to his family and loved ones. pic.twitter.com/SsU2mTUpde

— Alfa Romeo Racing ORLEN (@alfaromeoracing) April 12, 2020
A true icon of our sport.

Our thoughts and condolences go out to his family & friends.

Rest in peace, Sir Stirling Moss ❤️ pic.twitter.com/kaqA2zXbAW

— ROKiT WILLIAMS RACING (@WilliamsRacing) April 12, 2020
A legend of motorsport. RIP Sir Stirling Moss 🙏🏼💙 pic.twitter.com/JkhlEmhs9p

— billywhizz (@BillyMonger) April 12, 2020
All at McLaren mourn the passing of a legend of our sport, Sir Stirling Moss. A prodigious competitor, supremely talented racer, and consummate gentleman, he leaves an indelible mark of greatness on the history of international motorsport. Our condolences to his family. pic.twitter.com/c3vdzTuFgN

— McLaren (@McLarenF1) April 12, 2020
Today the motorsport world lost one of its legends.

RIP Sir Stirling Moss. Our deepest condolences go out to his family and loved ones. pic.twitter.com/g10nOMsJpC

— Scuderia AlphaTauri (@AlphaTauriF1) April 12, 2020